Crimson Runaway (4-part sci-fi novel)
CRIMSON RUNAWAY is a four-part sci-fi series in the spirit of the movie A FRIEND FOR THE END OF THE WORLD (2012). Its journal entries are set a few years into the future. Its characters are colorful but sparse, like David Mamet's screenplay for GLENGARRY GLEN ROSS. I am 19,000 or so words into the first draft, which puts me at the beginning of section III of IV. The action becomes more dense as the series unfolds, culminating in a finale of truly epic proportions.
I've worked this project for three years. I've registered crimsonrunaway.com.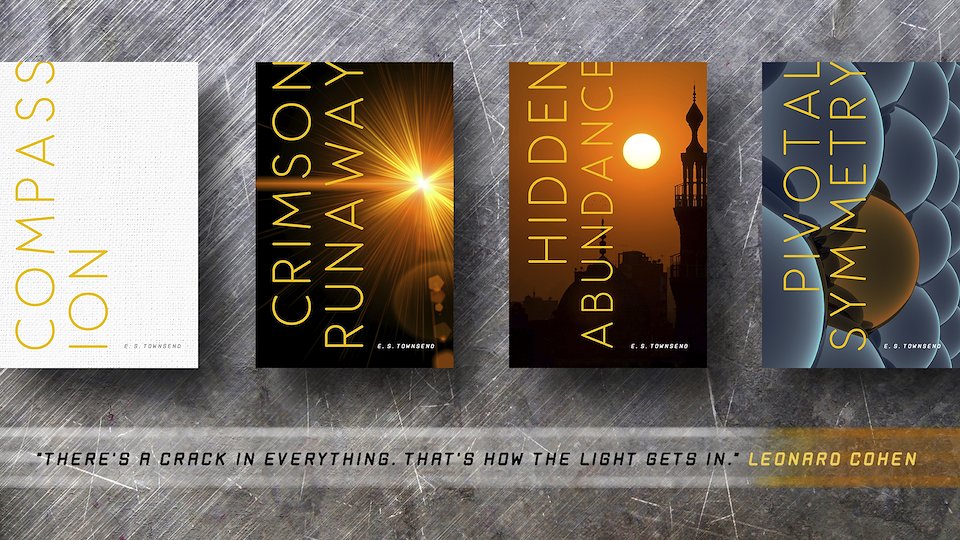 SYNOPSIS
Yacey Telfair is a college art student from Savannah (Georgia) with strange, recurring dreams. When the haunting ends and the mystery is revealed, she confides in her close friend Flick Wyeth. They embark on the journey of a lifetime — from Denver, Colorado to Alexandria and Cairo, Egypt to Cape Town, South Africa to a secret research facility in remote Antarctica. Few will believe the fate they see. They have less than two years to assemble a team to achieve the impossible.
The series opens with a letter from a firebox, written just before the foreseen catastrophe. The reader is immediately transformed into a survivor.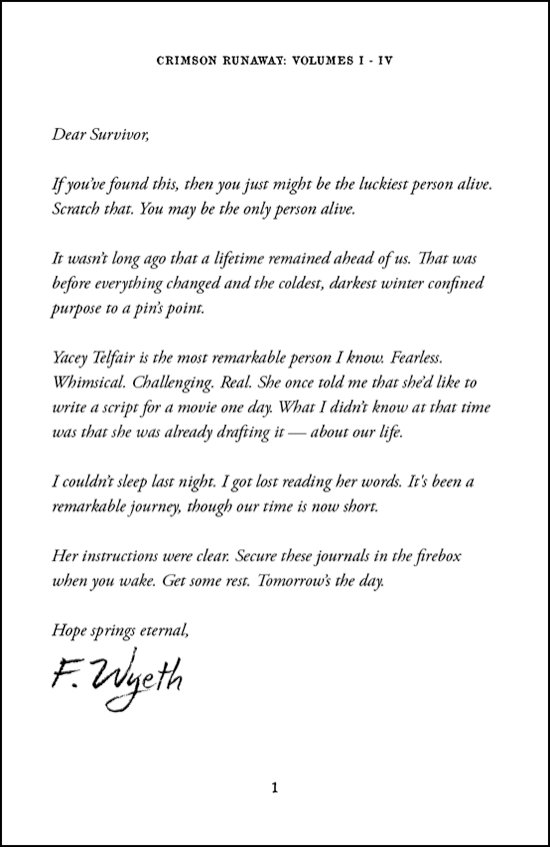 Below is a sample from the first section (COMPASS ION). As the action becomes more dense and scientific in nature, it doesn't shy from intimate moments. Below, Yacey begins to unravel the mystery behind her dreams. After a late night tour of the local haunts, and as they sip coffee on a particularly cold winter night, Flick shares an idea.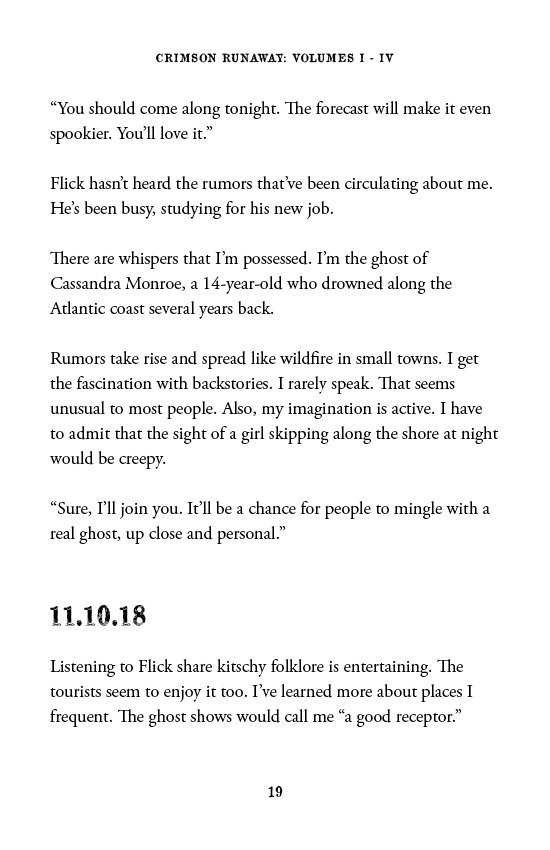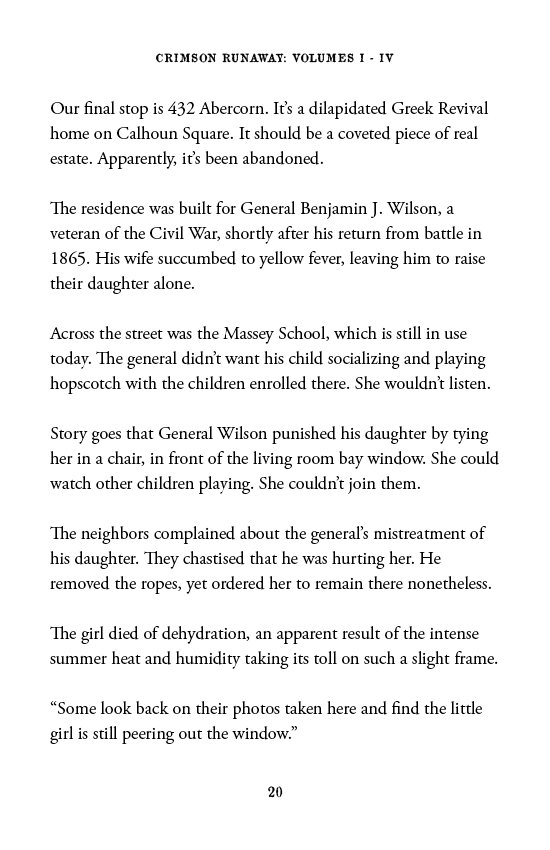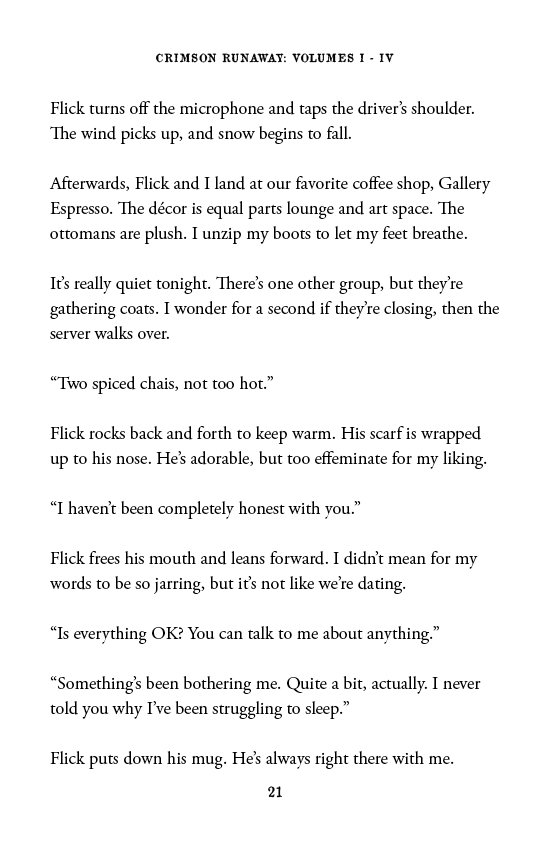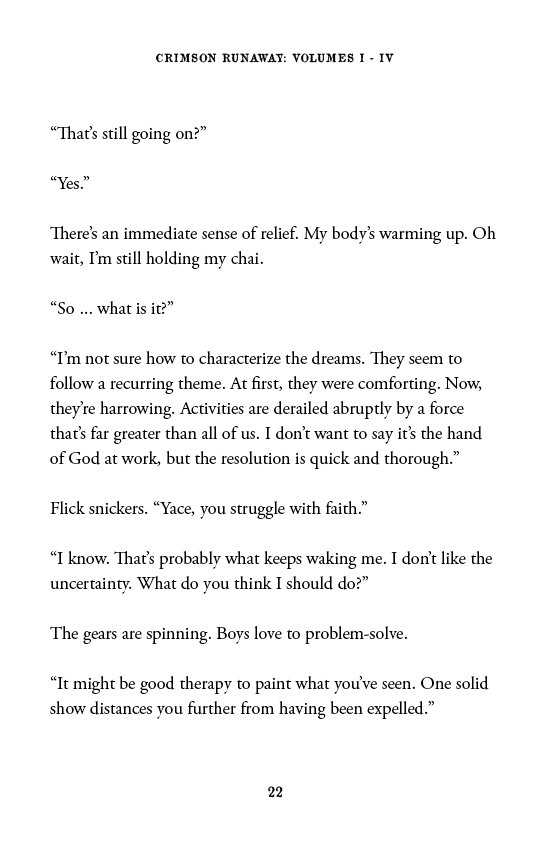 Up Next:
Tingence (ghost story series)